ACMME 2023 | Sapporo, Japan
The 11th Asia Conference on Mechanical and Materials Engineering (ACMME 2023) was successfully held in Sapporo, Japan during June 8-11, 2023. It's a happy reunion after 3 years' online conferrence. The technical program consist of 6 keynote & invited speeches and 11 oral sessions. Participants from over 20 countires have attended the conference onsite and online and shared their recent research with each other. Thank you for every committee and individual for your contribution to ACMME 2023. We're looking forward to meeting you next year!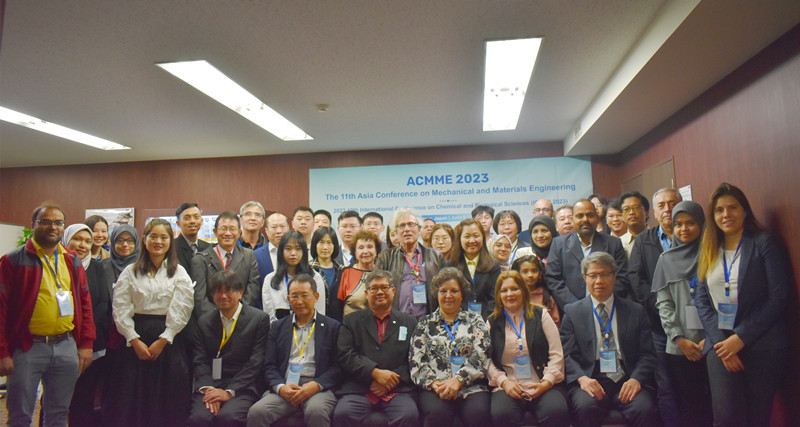 ACMME 2023 Group Photo
| | |
| --- | --- |
| Prof. Ramesh K. Agarwal, Washington University in St. Louis, USA | Prof. Omar S. Es-Said, Loyola Marymount University, USA |
| Prof. Tsair-Wang Chung, Chung Yuan Christian University, Taiwan | |
| | |
| --- | --- |
| Prof. Kenji Ogino, Tokyo University of Agriculture and Technology, Japan | Prof. Kazuo Umemura, Tokyo University of Science, Japan |
| | | | |
| --- | --- | --- | --- |
| | | | |
| Session 1A BP | Session 1A Group Photo | Session 1B BP | Session 1B Group Photo |
| | | | |
| Session 2 BP | Session 2 Group Photo | Session 3A BP | Session 3A Group Photo |
| | | | |
| Session 3B BP | Session 3B Group Photo | Session 4 BP | Session 4 Group Photo |
| | | | |
| Session 5 BP | Session 5 Group Photo | Session 6 BP | Session 6 Group Photo |
| | | | |
| Poster Session | Poster Session | Poster Session BP | Poster Session Group Photo |
Best Presentation Winners
Session 1-A
Presenter: Sulkhan Windrayahya, Indonesia International Institute for Life Sciences, Indonesia
Title: Development and Properties Improvement of Tea Dregs-based Biodegradable Packaging Formulated with Starch and Poly(Lactic Acid)
Authors: Sulkhan Windrayahya, Yudi Pranoto and Thawien Wittaya
Session 1-B
Presenter: Hyun Ji Kim, Kyungpook National University, South Korea
Title: Aging Hardening and Precipitation Characteristics of Extruded Mg-9Al-0.8Zn-0.2Mn-0.3Ca-0.2Y Alloy
Authors: Hyun Ji Kim and Sung Hyuk Park
Session 2
Presenter: Choosak Pornsing Silpakorn University, Thailand
Title: Just-in-case Inventory Management under Partial Supply Disruptions
Authors: Thanathorn Karot and Choosak Pornsing
Session 3-A
Presenter: Norhuda Hidayah Nordin, International Islamic University Malaysia, Malaysia
Title: Decolorization Kinetics of Azo Dye (Methyl Orange) in Fenton process with High Entropy Alloys as Catalyst
Authors: Nur Hudawiyah Abu Hassan, Nor Akmal Fadil, Nur Ayuni Jamal, Farah Diana Daud and Norhuda Hidayah Nordin
Session 3-B
Presenter: Ajay Kumar Kushwaha, IIT Indore, India
Title: Electrodeposition of Ni–Co Alloy Films for Hydrogen Evolution
Authors: Ajay Kumar Kushwaha
Session 4
Presenter: Jittraporn Wongsa-Ngam, King Mongkut's Institute of Technology Ladkrabang, Thailand
Microhardness Evolution of a Ti-6Al-4V ELI alloy Processed by High-Pressure Torsion
Authors: Jittraporn Wongsa-Ngam
Session 5
Presenter: Kew-Yu Chen, Feng Chia University, Taiwan
Title: Intramolecular C–H...O Hydrogen Bonded Solid Emitter as Colorimetric and Fluorometric Cyanide-Selective Chemodosimeter
Authors: Sachin D. Padghan and Kew-Yu Chen
Session 6
Presenter: Kuo-Fen Hua, National Ilan University, Taiwan
Title: The Angiotensin II Receptor Neprilysin Inhibitor LCZ696 Inhibits the NLRP3 Inflammasome by Reducing Mitochondrial Dysfunction and Increasing Autophagy in Macrophages
Authors: Hsiao-Wen Chiu and Kuo-Fen Hua
Online Session A
Presenter: Prapol Chivapornthip, Kasetsart University, Thailand
Title: A New Artificial Staggered-Grid Central Difference Solution for Checkerboard Problem in Incompressible, Steady, Inviscid, and Quasi-One-Dimensional Flow Through Convergent Nozzle
Authors: Prapol Chivapornthip
Online Session B
Presenter: Pusit Mitsomwang Suranaree University of Technology, Thailand
Title: Investigation of Betel Palm Sheath during Punch/die Shear Cutting
Authors: Usanee Kitkamthorn, Rattana Borrisutthekul and Pusit Mitsomwang
Online Session C
Presenter: Ivan Galvão, ISEL - Polytechnic Institute of Lisbon, Portugal
Title: A Novel Procedure for Friction Stir Welding Aluminium to Copper by Using an Aluminium Run-on Pplate
Authors: R. Beygi, I. Galvão, F. Nematzadeh, C. Leitão, R.M. Leal and L.F.M. da Silva
Presenter: Mohammed Afify, University Mohammed V, Morocco
Title: Performance-based Analysis of Mesh Smoothing Methods Combining Topology Optimization and Additive Manufacturing
Authors: Mohammed Afify, Younes Moubachir and Zouhair Guennoun
Poster Session
Presenter: Jer-Hao Chang, National Cheng-Kung University, Taiwan
Title: Innovative Dynamic Orthoses by Modular 3D-Printed Design to Facilitate the Recovery of Hand Function in Stroke Rehabilitation
Authors: Jer-Hao Chang and Kai Chang
Copyright © The 12th Asia Conference on Mechanical and Materials Engineering All rights reserved.