ACMME 2022 | Seoul-Virtual
2022 10th Asia Conference on Mechanical and Materials Engineering (ACMME 2022) was originally planned to held in Seoul, South Korea. Due to the impact of COVID-19 pandemic, the conference was held virtually during June 6-8, 2022. Participants from different parts of the world were connected together with network. All conference sessions were chaired via web remote conference and all presentations were made online. Thank you for all the delegates' cooperation during this virtual conference! We look forward to meeting you all face-to-face next year in Seoul!
Conference Proceedings
ACMME 2022 papers have been published in Vol. 1075 of Material Science Forum【ISBN:978-3-0357-1843-0】 Online Linkage
*Papers have been indexed by Scopus !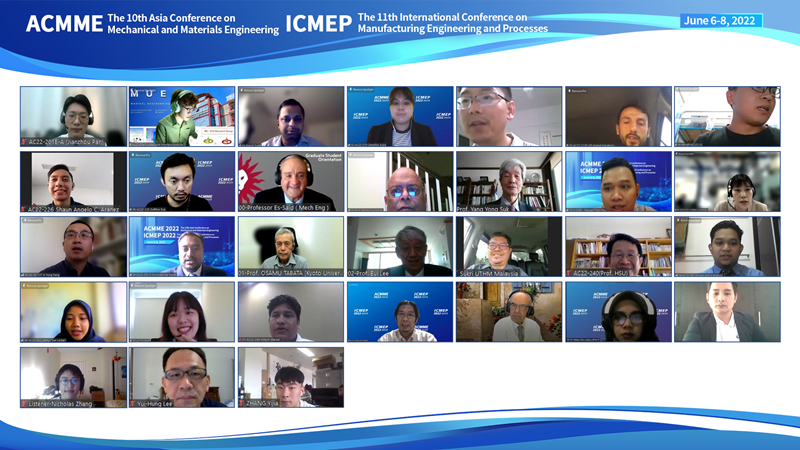 Online Group Photo

Prof. Omar S. Es-Said, Loyola Marymount University, USA was delivering opening remarks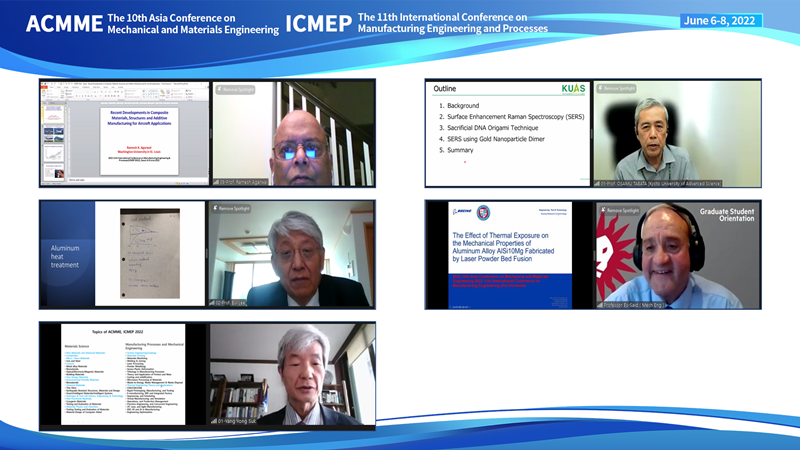 Keynote and Invited Speakers
ACMME 2022 Best Presentation Winners:
ID: AC22-231-A
Paper Title: Analysing the Inner Structure of Compounded Polyethylene(LDPE, LLDPE, HDPE) Film with and without Repelletiging Treatment for Improving the Mechanical Properties of Film
Presenter: Maho Toshimitsu
From: Fukuoka University, Japan
ID: AC22-204
Paper Title: Investigation of Dynamic Response Subjected to Localized Blast Loading on Pipeline using Explicit Dynamic Approach
Presenter: Machimontorn Promtong
From: Mahidol Univerity, Thailand
ID: AC22-240
Paper Title: Sheet-metal Formability study on a Circular Tube with a Folding Bottom Feature
Presenter: Quang-Cherng Hsu
From: National Kaohsiung University of Science and Technology, Taiwan

ID: AC22-237-A
Paper Title: High Performance Flexible Solar-blind Photodetector based on Carbon Dots and Rippled Graphene
Presenter: Yong Fang
From: Southeast University, China
Copyright © The 11th Asia Conference on Mechanical and Materials Engineering All rights reserved.