ACMME 2021 | Singapore-Virtual
2021 9th Asia Conference on Mechanical and Materials Engineering (ACMME 2021) was planned to held in National University of Singapore, Singapore originally. Due to the impact of COVID-19 pandemic, the conference was held virtually during June 26-28, 2021. Participants from different parts of the world were connected together with network. All conference sessions were chaired via web remote conference and all presentations were made online. Thank you for all the delegates' cooperation during this virtual conference! We look forward to meeting you all face-to-face next year in Seoul!
Conference Proceedings
ACMME 2021 papers have been published in Vol. 1047 of Material Science Forum【ISBN:978-3-0357-1893】 Online Linkage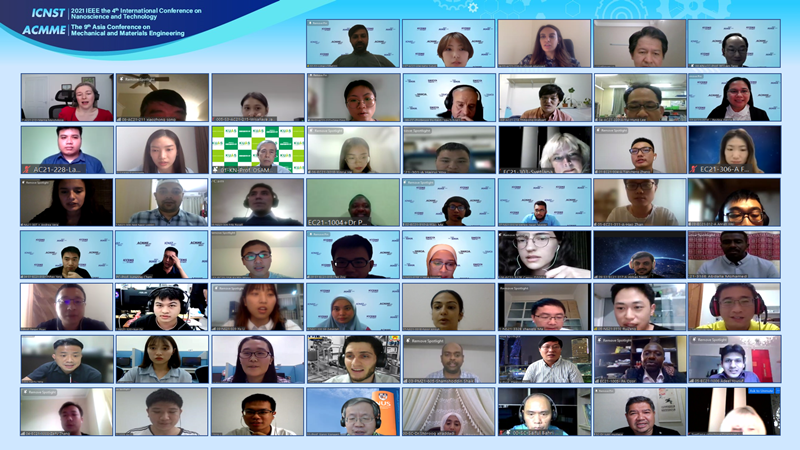 Special Group Photo

Committee and speakers overview

On June 27, ICNST conference chair-Prof. William C. Tang, University of California, Irvine, USA and ACMME conference chair-Prof. Omar S. Es-Said, Loyola Marymount University, USA made the opening remarks and welcome address respectively. 6 speakers delivered their speeches in the morning of June 27 and June 28 respectively. Speech information are as below:
Prof. Zikang TANG, University of Macau (UM), China
Speech Topic: Full-targeted Tumour Immunotherapy Technology


Prof. Osamu TABATA, Kyoto University of Advanced Science, Japan
Speech Topic: Top-down Meets Bottom-up: Way to Explore the Plentiful

Prof. Junsong Chen, University of Electronic Science and Technology of China, China
Speech Topic: Interface Engineering in Heterostructured Metal Selenides for Enhanced Sodium Storage Properties


Prof. William C. Tang, University of California, Irvine, USA
Speech Topic: Probing Neural Science at the Micro and Nano Scales

Prof. Dewei Zhao, Sichuan University, China
Speech Topic: Efficient Sn-based Perovskite Solar Cells Room at the Bottom
Assoc. Prof. Jianwen Jiang, National University of Singapore, Singapore
Speech Topic: Metal-Organic Frameworks for Chemical Separations and Reactions: A Computational Perspective
ACMME 2021 Best Presentation Winners:
ID: EC21-315
Paper Title: The Measurement of the Elastic Modulus and Kinetic Friction Coefficient of Long Nanowires by the Micro-force Probe in the SEM Combined with Finite Element Simulation
Presenter: Peng Gao
From: Harbin Institute of Technology, China
ID: EC21-301-A
Paper Title: Freestanding Fe0.4Co8.6S8 Nanotube/nanosheet Arrays on Carbon Cloth as Host for High Performance Li/SeS2 Batteries
Presenter: Hairui You
From: Nanjing Tech University, China
ID: AC21-208-A
Paper Title: Novel Coated Mesh for Oil Removal from Water
Presenter: Fahd Alghunaimi
From: Saudi Aramco, Saudi Arabia


ID: NS21-333E
Paper Title: The Characterization of Nanocomposites from Poly(lactic acid) with Nanocarbon Black as the Reinforcement
Presenter: Rui Zeng
From: Sichuan University of Science and Engineering, China

ID: NS21-330
Paper Title: Palm Kernel Shell as Partial Coarse Aggregate Replacement in Asphalt Mixture: Optimum Binder Content and Volumetric Properties Investigation
Presenter: Siti Zubaidah Mohd Asri
From: Universiti Pertahanan Nasional Malaysia, Malaysia
ID: PM21-501
Paper Title: Assisting SMEs to Establish RMA Diagnosis Checklist and Innovative RMA Process System to Enhance B2B Innovative Concept Adaptation and Its Value-Added Function
Presenter: Hao-Wei Yang
From: Chaoyang University of Technology, Taiwan
ID: NS21-308
Paper Title: Axial Capacity Prediction of Concrete-filled Steel Tubular Short Members Using Multiple Linear Regression and Artificial Neural Network
Presenter: Md Nasir Uddin
From: Tongji University, China
ID: EC21-1008
Paper Title: A New Omni-Directional EMAT Using Contra-flexure Coils for Plate Inspection
Presenter: Zaifu Zhan
From: Tsinghua University, China

ID: PM21-605
Paper Title: Prediction of forming strain for optimum dent resistance
Presenter: Shamshoddin Shaik
From: Tata Steel, India


Copyright © The 10th Asia Conference on Mechanical and Materials Engineering All rights reserved.